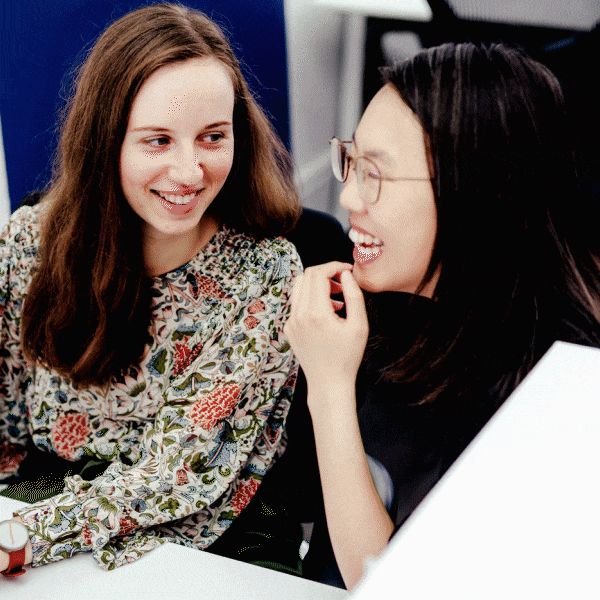 If this were High School, we'd probably sit at different lunch tables.
Anastasia Itkina
Art Director
Sophie Kaady
Strategy Director
Justin Tejada
Associate Creative Director
Afton Aurand
Senior Project Manager
Kyle Merwin
Co-Founder & Strategy Director
Adriana Gonzales
Art Director
Victoria Martin
Senior Designer
George De'Ath
Co-Founder & CCO
Anastasia Itkina
Art Director
Known as the 'vet' of Born & Bred, Anastasia became B&B's first employee as a senior graphic designer in 2018. The Russian-born designer came to America for three main reasons: her passion for nature, to work with the Latin alphabet, and, of course, a love story.

Besides just being a graphic designer, Anastasia serves as a printmaker, an illustrator, a copywriter, a production designer, and sometimes even a scientist. The reason for having this diverse skill set, as Anastasia explains it, is her secret ability to quickly pick up new techniques and passion for learning.

Working at an agency has allowed Anastasia to look inside all possible industries and learn about other peoples' jobs through her projects. In her tenure here, she has already worked with a technological coffee brand, a florist boutique, and learned how bioengineering works for a hangover cure. If you're interested in getting in touch with her, we recommend searching the local nurseries on weekends. She'll be there talking to the plants.
Sophie Kaady
Strategy Director
Co-leading brand strategy at Born & Bred, Sophie ensures that the brands we build are crafted with intention—balancing insight with imagination. She loves working with early to mid-stage founders ready to explore the future of their brands and businesses. She guides that exploration, pushes it further, distills it, and ultimately gets people excited about it.

Sophie entered the world of brand through the lens of business. She brings a breadth of experience, spanning from her consulting career with one of the worlds largest firms (EY) to her pivot to brand and innovation strategy. 

Prior to B&B, Sophie was Brand Strategy Director at branding agency DesignStudio, bringing to life new and reimagined brands ready to think beyond product. She also worked as an independent brand consultant supporting BIPOC women in the earliest stages of their ventures. She's worked with age-old behemoths and freshly crowned unicorns, she's worked tasting rooms, and toured alpaca farms. She's led countless workshops, learned priceless lessons, and is always on the lookout to dive into something new—our clients never disappoint. Sophie holds an MBA from UC Berkeley-Haas, and a MAcc from University of Virginia, but values experiences over credentials every time. 

Fun stuff: Sophie was born and raised in Portland, Oregon and is a tribal member of the Confederated Tribes of Siletz Indians of Oregon. Recently re-established in the City of Roses, she loves spending free-time getting reacquainted with traditional skills and crafts with the help of tribal elders. She's a proud auntie to three energetic nephews, that give her an excuse to always be working on some arts and crafts project or another.
Justin Tejada
Associate Creative Director
Justin is Born & Bred's resident storyteller. It doesn't matter if they're short stories or long, serious or funny. As long as they're interesting, Justin not only wants to tell stories, but tell them well. 
After many years working as a journalist for magazines (remember those?) and digital publications such as Sports Illustrated, Complex, and Fast Company, Justin shifted his attention to helping brands bring their stories to life in meaningful and engaging ways.
A natural tinkerer, Justin likes to look under the hood to identify what makes a brand special, and then translate that into messaging that connects with an audience. An editor once told him, "The job of a storyteller is to give people what they want and what they don't yet know that they want." Justin strives to succeed on both fronts.
Afton Aurand
Senior Project Manager
Originally from the Midwest, Afton's desire for creativity and extensive familiarity with the 405/101 interchange led her into entertainment events and promotions for Warner Bros. in the city of swimming pools and movie stars. After five years of straight California sunshine, she followed her passion for travel and lived in Chicago and New York City, where she stretched her legs as a Project Manager and Producer for advertising, design, social media, and branding campaigns, working with a client roster that included SC Johnson, PepsiCo, Comcast, Jim Beam, and Nestle. 

More recently, Afton's career focused on major music festivals, artist development, and events including The Academy of Country Music, Bonnaroo Music and Arts Festival, Outside Lands, Clusterfest, and even The Zombies. Until 2021...

You can now find her steering projects for Born & Bred down in Nashville with her dwarf-like pup Ziggy, as "y'all" and "yee-haw" slowly worm their way into her vocabulary. Afton's self-proclaimed "Saved by the Bell" trivia championship, stint as Fleetwood Mac fan club president, and her love of silent films, photography, vinyl, and all things Cardinal/Cubs baseball are all featured in her E! True Hollywood Story, which is currently in post-production (maybe).
Kyle Merwin
Co-Founder & Strategy Director
Leading strategy and new business, Kyle Merwin makes up 50% of the founding team at Born & Bred. Kyle first linked up with his future partner, George De'Ath, in 2017 as B&B's first Strategy & Growth Consultant. After a few successful collaborations together, George asked him to be the Chewie to his Han Solo for this Millenium Falcon of a company he was building. Kyle accepted with zero hesitation; and the two have continued to create and grow brands at hyperspeed ever since.  
Prior to B&B, Kyle was a ground-floor employee (#18) at the cannabis-tech startup Eaze.  At the intersection of growth and brand, Kyle created and managed programs that grew Eaze to over 1 million deliveries without the use of paid digital channels. A few of these programs include: college brand ambassadors, content (SEO, Video, Social), white-label brand creation, and the Eaze Insights Report series—which was the company's #1 driver of awareness and  covered by the New Yorker, New York Times, Forbes, AdAge, and dozens more.
Fun stuff: Kyle was born in La Paz, Bolivia but grew up in Marin County. He is a proud graduate of UC Berkeley (Go Bears!) and is a huge Giants & Warriors fan (sorry, not a football guy). Kyle loves Hip-Hop, beach vacations, Hazy IPAs, Popeye's Chicken, and making people laugh.
Adriana Gonzales
Art Director
Adriana is an Australian-born designer and art director who first took a bite out of the Big Apple in 2014. After experiencing New York City, Adriana moved to Los Angeles in 2021 where she joined Born & Bred as an art director.

Aside from design, Adriana can be found hiking the many canyons of Los Angeles with her husband and pup Sumi. In her spare time, she enjoys gardening, sharing food and wine with friends, and baking. (If you ask nicely, she may mail you some baked goods).
Victoria Martin
Senior Designer
After years of slinging toast at bougie diners, Victoria joined Born & Bred. There may not be any bread here, but she fits in nonetheless.You can normally find her pacing by the coffee machine, scouring Pinterest on the couch, or hoarding $5 fancy pens just to scribble all over her own hard work. Her most prized possessions include her doggo Rossi, her wine key, and her ever-growing collection of NSFW dad tees that she wears to work anyways.
Victoria loves to play with type and layouts—getting her inspiration from punk posters, hand-painted signage throughout the city, and the magazines she finds in the Japantown bookstore. She likes to pretend that she's active on the weekends; but actually, she's sunken into her couch, talking to her dog like he's human, and starting Game of Thrones finally. We know... it's going to be a while.
George De'Ath
Co-Founder & CCO
George puts the 'born' in Born & Bred. Back in 2017, the agency was a wild dream of his. Since then, the company has grown wild with ideas, people, and bad British accents aimed at his expense.
Culture constantly occupies George's mind, amongst a million other things. But for him, a company creates meaningful work when people feel purpose in what they do. If the team thrives, so will our output.
Prior to Born & Bred, George worked at agencies in London, Oxford, and San Francisco. There he gained extensive experience amongst multiple industries—including global brands like Samsung, Diageo, and L'Oréal. Working on these legacy brands helped George discover his vision: to bring soul and energy back into design.
"I never thought it would grow to the team we have today. Watching our family develop, seeing new people start, and adding new diverse perspectives—it's pretty special to me."
Careers
Help us make this thing called work even better.
Junior Designer
Born & Bred is looking for a super talented and hungry Junior Designer to join our team. Really, we want someone who loves to create and is pretty damn good at doing so. Born & Bred is the fastest growing brand agency in the world (Adweek 2021) where you'll find yourself with significant creative freedom and ownership. This is your moment for the taking. If you've ever dreamed of seeing your work in the world, this is the perfect role for you. You'll assist in creating bold and disruptive brands for industries ranging from technology, CPG, cannabis, fashion, Web3, and everything in between. Be ready to dream big and bring it to life.
What you'll do:
Work with an interdisciplinary team of designers, strategists, and copywriters to create bold brands for disruptive companies
Participate in brainstorming sessions and set the tone for our client's visual identities through mood-boarding
Support the creation of visual identity concepts (logo, color, type, art direction, etc) for our clients to choose from
Extend visual identities to the client's experiences including websites, packaging, products, collateral, and more
Support the Creative Directors in building decks for client presentation
Participate in the creative process from brainstorming through production
Become a part of a hungry, talented, and exciting team
What you've got:
A degree in Graphic Design or related field
1+ years of experience working in a design or creative studio environment
Mastery of Adobe CS: Illustrator, Photoshop, InDesign, and After Effects
A lifelong passion for design and meticulous attention to detail
Ability to sketch, design wireframes, create mood boards, and have a story for your work
Ability to take direction, refine concepts, and initiate improvements
Strong communication skills, team-player attitude, and ability to self-manage
What we offer:
Fully-remote
Unlimited PTO
100% coverage of your Medical and Dental Plan and 75% of your Vision Plan
11 paid holidays
Lunch on us every Friday
Yearly wellness stipend
401K Retirement Plan with company matching
Paid Family Leave
Access to a WeWork desk in your city
Learning & development opportunities
Twice-yearly (all-expenses-paid) company off-sites to hang out with the whole b&b team
Who we are:
We are a fast-growing remote brand agency partnering with visionaries to fundamentally change the way brand is understood and valued. Why do we do it? To help move our clients, their ideas, and the world forward. We build and design brands from the ground up, from brand strategy and identity systems, to beautifully crafted packaging and campaigns–no task is too big or too small.
Our clients are disruptors–ready to take risks, seek new perspectives, and be pushed strategically and creatively. They love working with our team of informed provocateurs to bring to life everything they've always dreamed their brand could be, or never even imagined. We love working with them, and if you're a good fit, you will too.
As an agency, we believe that work-life balance is essential to being happy, creative, and productive and have built a company culture that values people over everything else. We live up to that by considering every team member a leader in their own right, expected to lead by example. We're proactive–seeking solutions, not problems. We're collaborative–sharing the load and the credit. We win as a team–putting the team first and celebrating wins together.
For an extended look into our work, clients, and culture, please visit our website. Not enough social stalking for you? We get it. Go ahead, check out our socials too.
Website - bornandbredbrand.com
Instagram - instagram.com/bornandbredbrand
Facebook - https://www.facebook.com/bornandbredbrand
Linkedin - linkedin.com/company/born-and-bred-agency-sf
Laws of
the land
.
Story comes before first.
Being right takesa lot of wrongs.
If the devil's in the details, Hail Satan.
Everything shines,just gotta find the right angle.
Clients absolutely,without a doubt, come first.